Tocotronic
Vertigo Records
A glow in the dark
Matching the title of the album, Tocotronic take a look into infinity with their limited fan box – the white dots glow in the dark and thus suggest the impression of a never ending starry sky. The theme of glowing is often taken up by using afterglow paint and can be found in every single part of the box – from the box print to the T-shirt. Consistently down to the last detail, Tocotoronic make not only their music shine for their fans, but even the 7inch vinyl granules record with glow-in-the-dark effect (afterglow colour).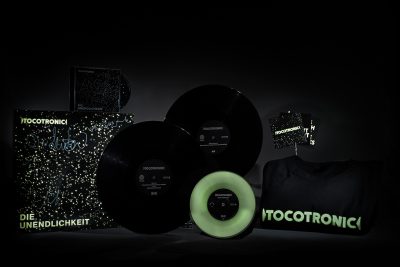 Refinement of the box, the 7inch record, the printed matter and the T-shirt with "Glow in the Dark" afterglow paint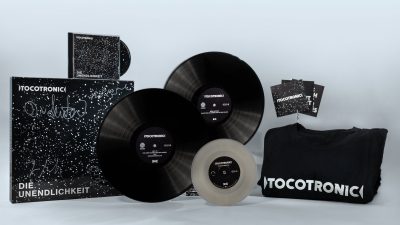 Signed box with 2 12inch records, coloured 7inch record, 2 CDs, T-shirt, poster and sticker set
7inch vinyl granule record - 'Glow-in-the-Dark
Autographed slip lid box
Box Set, T-Shirt, poster, sticker & pocket printed with afterglow colour (screen printing)
Contact
Write to us and we would be happy to advise you.
Do you have any questions, or would you like to speak directly with a representative?