We will realise your product ideas with our high-end, sheet-fed offset – whether classic halftone, frequency-modulated or hybrid screens, cmyk printing or spot colours. Thanks to our modern Heidelberg machinery, we offer the right format and the ideal print and finishing technology to meet every manner of customer requirements: conventional or the use of LE UV inks, with inline or offline finishing. We also provide a wide range of substrates to choose from.
Full-service flexibility
With eight high-performance sheet-fed offset printing machines and a total of 52 printing and finishing units offering up to 10-colour printing and formats ranging from 00 to 3b-XL, including straight and perfecting presses, as well as inline and offline coating units working through multiple shifts, we will realise your publications with excellent quality and short delivery times.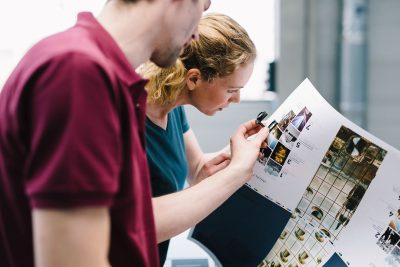 Registration control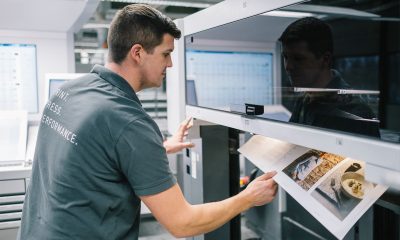 Withdrawing a proof sheet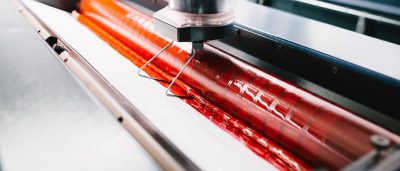 Inking unit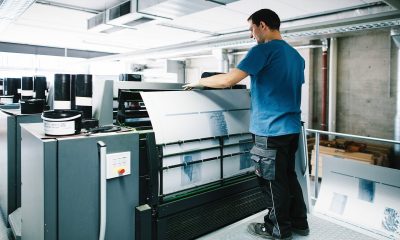 Plate changing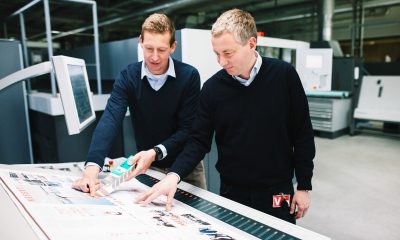 Press passing with customers
A diverse classic
The numerous options offered by the large range of spot colours and varnishes available makes conventional offset printing an excellent choice. From metallic and neon colours to scented inks, the colour options are nearly limitless. By refraining from the use of a protective dispersion varnish, you are choosing to go with a particularly environmentally friendly production method. Find out more about sustainable production and what we can do for the environment on the certification and sustainability page.
Here are a few advantages of conventional printing:
Large range of spot colours
Organic colours and coating
5/5- to 10/0-colour print passes
Unbeatable on uncoated paper
Our three LE UV offset printing machines set clear standards, and we are fascinated by the possibilities they offer. Low-energy UV lamps allow UV inks and varnishes to instantly dry so that the substrate can be immediately processed further. This offers many advantages, including reduced production times and cross-linking of the ink on the material's surface for bright colours and an extraordinarily high sharpness of detail, even on uncoated paper.
Here are a few advantages of LE UV printing:
Possible to immediately process further
Energy-efficient printing
High colour brilliance on uncoated paper
Powder-free & smooth surfaces& glatte Oberflächen
No two-sidedness in reverse printing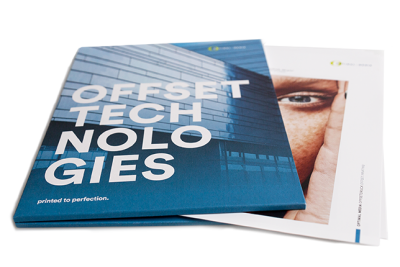 Comparing printing methods
We would be happy to speak with you in person about the possibilities of each printing method. Feel free to request our portfolio of offset printing methods, in which we compare printed material of each method using examples on different types of paper.
Contact our team for more information.
Contact
Write to us and we would be happy to advise you.
Do you have any questions, or would you like to speak directly with a representative?