Together for regional environmental protection
The production site of optimal media is located in the middle of the Mecklenburg Lake District, between the Nossentiner/Schwinzer Heide Nature Park and the Müritz National Park. The partnership with both parks is a special affair of the heart for us, in order to locally show a serious commitment for the environment and to preserve the unique natural landscape on our doorstep. In this way, we make an active contribution to the preservation of the environment.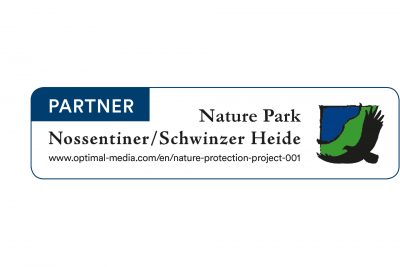 Nossentiner/Schwinzer Heide Nature Park
In cooperation with the Nossentiner/Schwinzer Heide Nature Park, we offer you the opportunity to support a regional nature conservation project in the direct vicinity of our production site. By transforming the monocultural pine forest into a climate-stable mixed deciduous forest, you ensure the sustainable development of the nature park. With every tree planted you compensate for CO2 emissions.
You too can support our regional nature protection project "Young giants for the next 100 years" with your production.

Müritz-Nationalpark
optimal media is a Müritz National Park partner and thus part of the partner network that stands for sustainable business management.
Founded in 1990, the Müritz National Park is the largest land-based national park in Germany with 32,200 hectares and serves to protect the typical Mecklenburg forest and lake landscape in the North German lowlands east of the Müritz. The numerous lakes and moors make it unique among the 16 German national parks.
The partners feel a special connection with the landscape and nature of the Müritz National Park region and are committed to preserving the biodiversity of the national park in the Müritz region.
Contact
Write to us and we would be happy to advise you.
Do you have any questions, or would you like to speak directly with a representative?