LP gatefold album to the 30th anniversary
On the occasion of the 30th anniversary of "125 Jahre Die Toten Hosen – Auf dem Kreuzzug ins Glück", "Die Toten Hosen" publishes a new edition limited to 5,000 copies as a double vinyl record Gatefold album.
The 4-colour record cover printed on both sides resembles a painting depicting the end of a battle in which Napoleon was forced to retreat. The heads have been exchanged with those of the band members and on the back there are pictures of Jimi Hendrix, Elvis Presley and Sid Vicious (Sex Pistols) as well as a numbering of the respective album copy.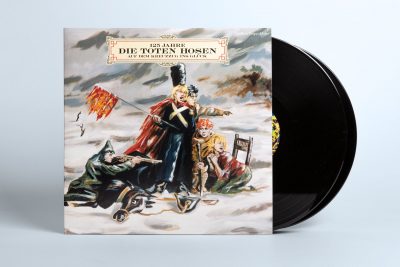 Reissue edition as LP gatefold album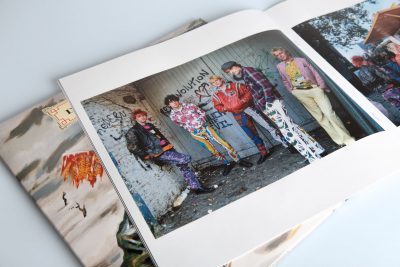 24-page booklet in vinyl record size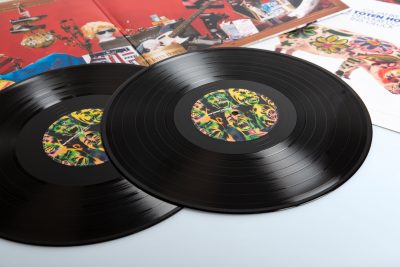 Two black 12inch vinyl records (140g)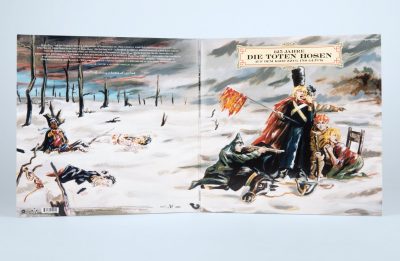 Layout based on the original cover plus numbering
The inner sides of the gatefold pockets are additionally printed and offer space for a 24-page booklet, a sticker and two black 12inch vinyl records in innersleeves printed on front and back side.
The booklet is made in record size and offers plenty of space for band photos and lyrics of the punk rock band, which chose the total age of their members in 1990 as the title for the now thirty-year-old album.
Take a closer look at the gatefold album!
Printed insides of the gatefold pockets
Limited reissue edition with numbering of each individual copy
LP double album with 2 black 12inch vinyl records, booklet in LP-size and sticker
Contact
Write to us and we would be happy to advise you.
Do you have any questions, or would you like to speak directly with a representative?