Alarmsignal
Aggressive Punk Produktionen | Edel
Versatile fan boxes
With their new album "Ästhetik des Widerstands" (Aesthetics of Resistance), the german punks from Alarmsignal continue their over 20-year band history and released their eighth album in total. The two different box sets with exclusive contents are designed with a matching signal effect and have become a real eye-catcher.
After many years of their furious german punk anthems in the scene, according to the band themselves, their most elaborate and versatile album to date with a total of thirteen new tracks was created in the time of the pandemic.
So it was a logical step to produce the album in two equally elaborate and limited versions. Both fan boxes consist of a lift of lid box with scratch-resistant, glossy foil lamination. The box set for vinyl record fans includes a coloured 12inch Propeller Vinyl made from transparent and pink 180g Virgin Vinyl. The long player comes in a printed inner sleeve and spine sleeve with a 3mm spine as well as an MP3 download card. The counterpart, with CD, contains the album in a printed digisleeve with 16-page booklet and MP3 download card.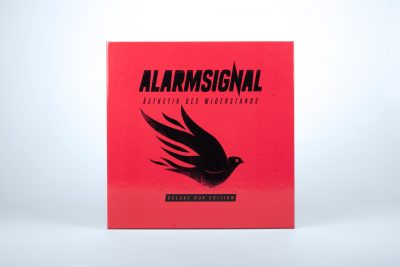 Limited box set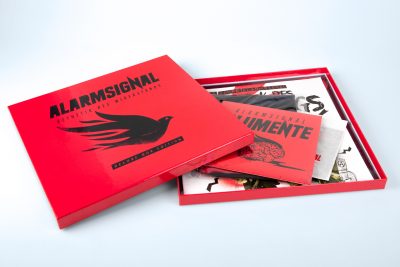 Printed slip of lid box with glossy, scratch-resistant foil lamination
Fan box with 7inch vinyl record, 12inch Propeller Vinyl, fanzine, flag, buttons, patch and sticker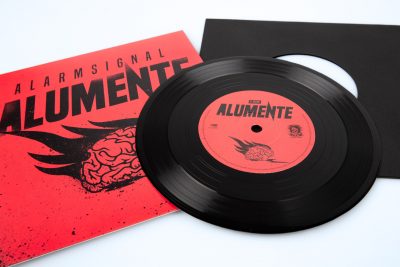 Single "Alumente" as 7inch vinyl record in maxi sleeve and black inner sleeve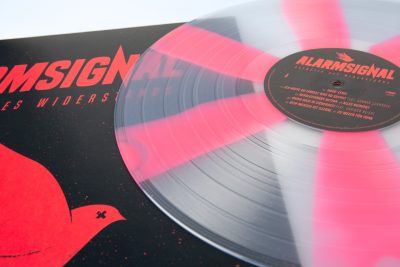 Coloured 12inch Propeller Vinyl with transparent and pink Virgin Vinyl (180g)
The exclusive box sets also contain the single "Alumente" as a black 7inch vinyl record in a maxi sleeve (Virgin Vinyl), a sticker, three buttons, a screen-printed patch in a paper bag and a flag with the imprint "Revolutionary Action". The exclusive fanzine in record format entitled "Ästhetik des Untergangs" (Aesthetics of Downfall) about 22 years of Alarmsignal and the punk music delivered, which reflects many themes in terms of content and just also the versatility of the album.
The renowned list of musical supporters on "Aesthetics of Resistance", such as Torsun Burkhardt from Egotronic, Gunnar Schröder from Dritte Wahl and Mel Marker from Shirley Holmes, among others, underlines this as well and leaves no doubt that this long-player is a must for every Alarmsignal fan.
Limited box sets with CD or 12inch vinyl record, plus black 7inch vinyl record, download card, sticker, buttons, patch, flag and fanzine
Coloured 12inch Propeller Vinyl in transparent and pink (180g Virgin Vinyl)
Fanzine in vinyl record format with 16 pages
Contact
Write to us and we would be happy to advise you.
Do you have any questions, or would you like to speak directly with a representative?