Santiano
Universal Music | WE LOVE MUSIC
Maritime success concept on CD and vinyl record
"Wenn die Kälte kommt" is the title of Santiano's fifth studio album, which we had the pleasure of producing on CD and vinyl record. The song of the same name from the new album comes across as powerful and mystical and presents itself in the usual fairway of the north german musicians, with genres ranging from pop, rock and irish folk to shanty.
Thematically, the 14 new songs describe the time of Roald Amundsen and Robert Falcon Scott, who had a race to conquer the South Pole in 1911. The design of the album also picks up on this theme and so the band members can be found with matching outfits on the covers and the booklets of the jewelbox, digipac and vinyl record version.
The CD edition was produced in the standard version with jewel box and 20-page booklet. The deluxe version was released in a digipac including a second CD with great bonus material and a 24-page booklet. The digipac is part of a limited fan box. In addition to the CDs, a gatefold with two black vinyl records made of 180g Virgin Vinyl was produced. The two 12inch vinyl records find enough space and support in two printed inner sleeves.
Two black 12inch vinyl records (180g) in a gatefold
Digipac with 24-page booklet and two CDs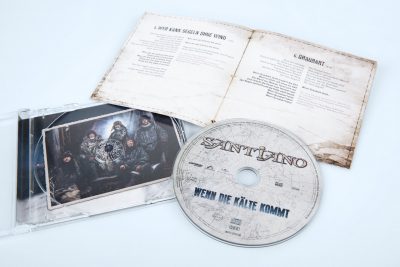 Jewelbox with 20-page booklet and CD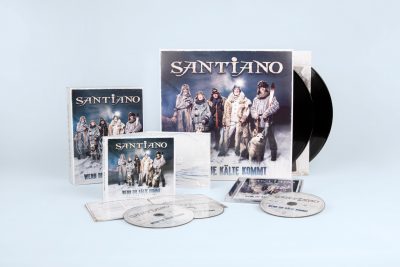 CDs in jewel box and digipac, LP gatefold and box set
With "Wenn die Kälte kommt", Santiano not only celebrate great musical worlds of feeling around themes such as friendship, cohesion, love and death, but also their tenth band anniversary and their fifth number one album in a row in the german charts.
A continuation of this successful journey is sure to follow: "Leinen los, volle Fahrt Santiano!".
6-page digipac with two CDs and booklet (24 pages)
12inch vinyl records (180g heavyweight)
Gatefold with printed inner sleeves
Contact
Write to us and we would be happy to advise you.
Do you have any questions, or would you like to speak directly with a representative?