The Fernweh Collective | dasselbe in grün
A different kind of travel guide
"The Fernweh Collective" is an independent, advertising-free travel magazine made by travellers for travellers. Editor Elisaveta Schadrin-Esse and her team dedicate each issue to a special topic. The editorial articles provide information about conscious travel, sustainability and the environment.
The magazines, which have been published twice a year since 2016, are in great demand; all have been sold out so far and there are even waiting lists for new editions. All magazines are produced in A4 format and printed conventionally.
Last year, Elisaveta Schadrin-Esse also published a travel guide, "dasselbe in grün". The reader learns everything an environmentally friendly traveller needs to know. It is not a scientific work, but a guidebook for "green travel", without "to-dos and must-see lists", and is intended to inspire people to pay more attention to the environment when travelling. On the one hand, the content imparts basic knowledge, and on the other hand, there are many tips for planning one's own travels. The whole thing is entertaining, informative and entertaining and complemented with colourful illustrations.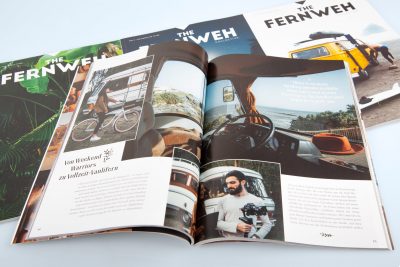 Monothematic magazines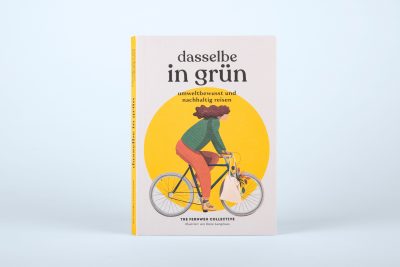 Compact format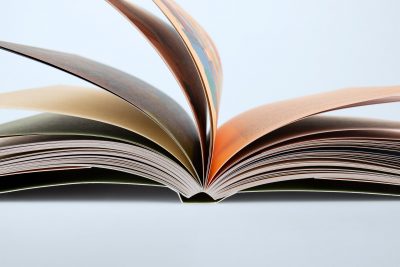 Hollow spine brochure with thread stitching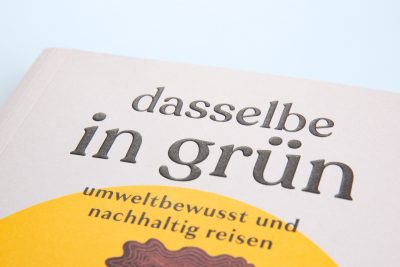 Guide to sustainable travel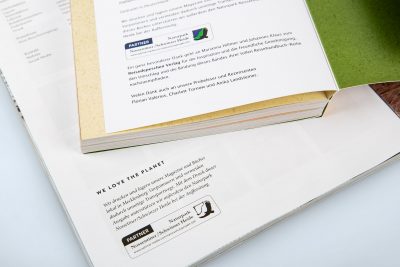 Support of a local nature conservation project
The travel guide has a handy format of 150 x 215 mm and is produced as a hollow spine brochure with thread stitching. The cover contains two printed flaps.
The production of the magazines and the book supports the local nature conservation project "Young Giants for the Next 100 Years". The publisher also attaches importance to realising production and warehousing regionally.
Hollow spine brochure with thread stitching
Cover with two flaps
Support of a local nature conservation project
Contact
Write to us and we would be happy to advise you.
Do you have any questions, or would you like to speak directly with a representative?