Craftsmanship in large format
Even if book production is no longer a manual craft, it is and remains a high art. And this is impressively demonstrated by the large book format in DIN A3, which not only gives the craftsmanship the space it deserves, but also shows the possibilities offered by optimal media in the in-house bookbindery. Masterful is also the printing on uncoated paper with 1.4 times the volume, which skilfully stages the works of the successful photographer Stephan Wiesner. This is achieved by perfectly matching the print data and printing technology to the substrate: razor-sharp details and nuanced differentiation in the modulation area are the result.
From shoemaker to instrument maker, 20 different trades are presented on 280 pages. Hardcovered with a box spine and two differently coloured ribbons, plus a silver hot foil stamping on the cover and spine, the book makes quite an impression weighing a good two kilograms. We are proud to have produced this beautiful project entirely in-house. If you are interested, you are welcome to watch the video of the book production.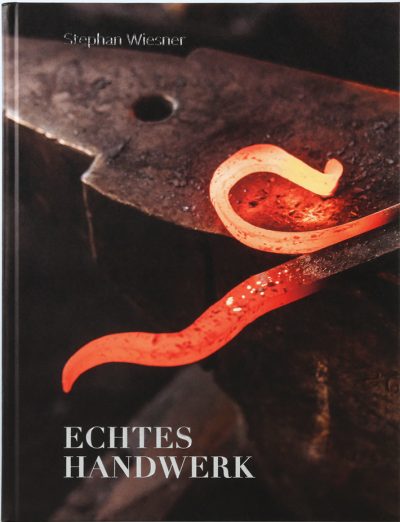 Hardcover in DIN A3 format with silver hot foil stamping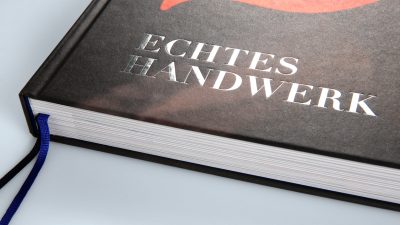 Hot foil stamping on cover and spine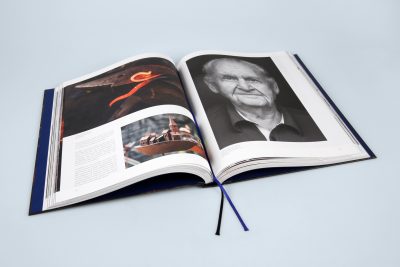 Two ribbons in different colours: black and blue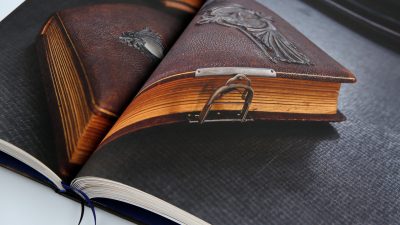 Brilliant print on uncoated paper
Book format in DIN A3
Two ribbons in different colours
Box spine
Hot foil stamping on cover and spine
Video: Insight into book production
Contact
Write to us and we would be happy to advise you.
Do you have any questions, or would you like to speak directly with a representative?