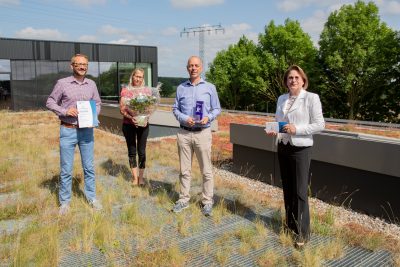 v.l.: Mirko Goede (Mangager Human Ressources optimal media GmbH), Kati Niesche (AzubiCoach optimal media GmbH), Jörg Hahn (Managing Diretor optimal media GmbH) und Ellen Grull (Head of Training and Further Education CoC Neubrandenburg)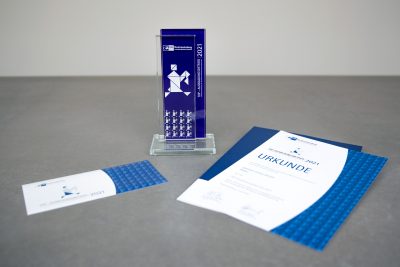 CoC TOP training company 2021
CoC honors optimal media
With the award for the "TOP Training Company 2021", optimal media – in spite of pandemic-related challenges – has received the rating for excellence in apprenticeship training from the chamber of commerce for the fifth time in succession.
Ellen Grull (Head of Training and Further Education CoC Neubrandenburg) presented the award and praised optimal media's commitment: "When the wind of change blows, some build walls and others windmills. You have proven that the mills of dual vocational training have continued to turn excellently in your company even in these challenging times. Your commitment to training always stands at the highest point – just like the windmills – and reliably works, even in stormy times, directly in the wind."
Contact
Write to us and we would be happy to advise you.
Do you have any questions, or would you like to speak directly with a representative?