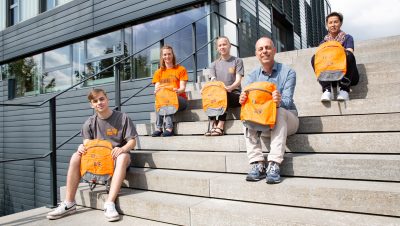 Photo from left: Jan-Henrik Strüben, Denise Zimmermann, Marina Strüben (all from Wassersport Müritz e. V.), Jörg Hahn (Managing Director optimal media) and Petra Funk (Personal Assistant to executive board and public relations optimal media)
Across the Müritz with optimal equipment
optimal media has supported the staging of the traditional Müritz Swim in Waren for many years. For this year's event, which takes place on August 7, we have provided 750 backpacks for the participants. Each swimmer will receive a backpack on the day of the event, which will contain not only the obligatory T-shirt, but also a bathing cap and a transponder. They will also be used for the contestants to store their belongings, and the Orga team will take care of transporting the backpacks from the starting point in Ecktannen to the finish at Waren's open air bathing centre.
The Müritz Swim was first held in 1969 and has enjoyed great popularity over its many years. The main event is the crossing of the Müritz from the east to the west shore, covering a distance of 1,950 meters. For some time now there has also been the double crossing of 3.8 km for ultra swimmers and a children's swim over a distance of 400 meters.
We wish all participants great success and the Orga team good luck.
Contact
Write to us and we would be happy to advise you.
Do you have any questions, or would you like to speak directly with a representative?