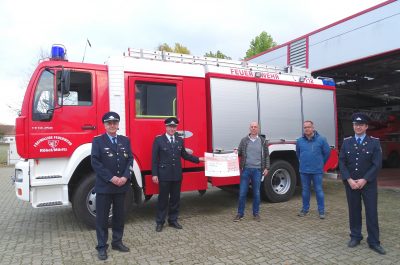 Klaus Gödicke (deputy fire chief of the department), Andreas Wilfert (chief of the fire department), Jörg Hahn (managing director of optimal media), Mirco Mertel (fire prevention officer of optimal media) and Tobias Hahn (youth leader of the fire brigade) were present at the handover of the donations
Donation handover to the FFW Röbel/Müritz
With a donation of 5,000 Euros, optimal media GmbH supports the local volunteer fire department of Röbel/Müritz.
Jörg Hahn, managing director of the company, explains: "For all of us it is a matter of course that the fire brigade is on site and provides help in the shortest possible time in case of fires, serious accidents or other rescue operations. It would be unimaginable if this wouldn't be the case. We had to experience this ourselves in March this year when a fire broke out on our premises. Within a very short time, the crew of the fire department were on site and took over the securing of the source of the fire and the extinguishing work. We would like to thank them once again for their commitment and dedication. Thanks to the fast, co-ordinated and conscientious action, personal injuries and serious economic consequences were avoided and we were back to full operational status right the next day."
Klaus Gödicke (deputy fire chief of the department), Andreas Wilfert (chief of the fire department), Jörg Hahn (managing director of optimal media), Mirco Mertel (fire prevention officer of optimal media) and Tobias Hahn (youth leader of the fire brigade) were present at the handover of the donations´ handover (in the picture from left to right).
optimal media has regularly supported the work of the Röbel fire department in the past, already in 2020 and 2018 with donations for youth work.
Contact
Write to us and we would be happy to advise you.
Do you have any questions, or would you like to speak directly with a representative?