Radiohead
Beggars | XL Recordings
A vinyl record gatefold album in a triad
Some 20 years after the release of their albums "Kid A" (2000) and "Amnesiac" (2001), Radiohead released a combined re-release under the name "Kid A Mnesia". The band is celebrating these anniversaries with a special product combination. The packaging has been designed in a kind of "reversible cover" and features the original artwork of the two albums.
Inside, there is an acoustic triad album that combines the two long players and a few rare recordings on a total of three CDs as well as optionally on just as three vinyl records.
Gatefold as a special "reversible cover"
Box spine of the gatefold with two covers
12inch LP gatefold with free swinging sleeve in the middle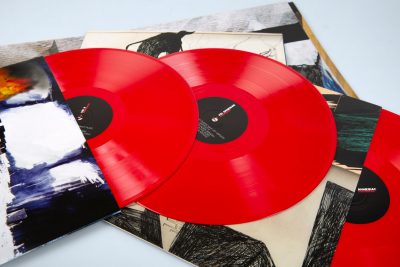 Three red 12inch vinyl records (140g Virgin Vinyl) in printed inner sleeves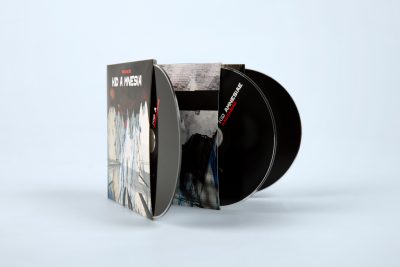 Sleevepac for three CDs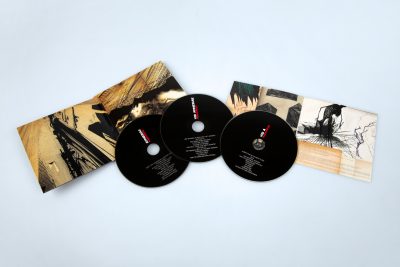 Three CDs, 4-page booklet and Digisleeve
The vinyl record version was made as a gatefold album with three sleeves, including one sleeve which is hinged in the middle inside. The three printed inner sleeves each contain a 12inch vinyl record in black or optionally in red. Both versions are pressed from 140g Virgin Vinyl.
As a counterpart, the CD version was produced in the form of a special Digisleeve with two sleeves and a floating wallet in the middle of the Digisleeve. In addition to the three CDs, a four-page booklet is also included.
Take a close look at the media packaging!
Whether made as a vinyl record or a CD, this special release allows fans of both albums to access them according to their own preferences via the "rotating" design and discover the exclusive recordings in the middle. A product experience with a note: Please turn!
Gatefold with a hinged in LP sleeve in the middle
Red and black 12inch vinyl records (140g Virgin Vinyl)
CD Digisleeve with floating wallet
Contact
Write to us and we would be happy to advise you.
Do you have any questions, or would you like to speak directly with a representative?