Thomas D and the KBCS
Rekord Music
An album with the highest recognition
With "M.A.R.S Sessions", Thomas D releases his sixth solo album with eleven songs from his existing catalogue of titles, which have now been arranged in a completely new musical guise due to the influence of his accompanying band "The KBCS". The predominantly black and orange layout runs through all product variants and ensures a visual connection across all components.
The album was produced as a CD in a digisleeve, a double 12inch vinyl record in a gatefold and as a limited box set in the form of a slip of lid box with many extras.
The box includes the four-sided digisleeve made of 350g recycled cardboard, which offers space for a booklet and a CD. The gatefold and the inner sleeves are also made of recycled cardboard. The design of the album is also reflected in the choice of 12inch vinyl records (180g), which are made as orange and black Corona vinyl and are a real eye-catcher due to the two-tone effect. The use of the two different PVC colours creates a different colour pattern on both LP sides during the pressing process, making each vinyl record unique.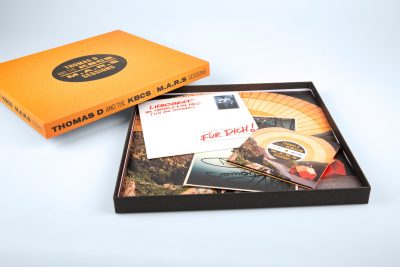 Limited slip of lid box set with double LP gatefold, CD, flexi disc, poster and photo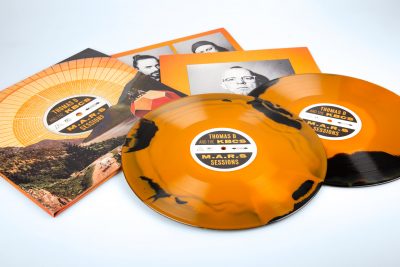 Gatefold with two-colour double 12inch Corona vinyl record (180g virgin vinyl)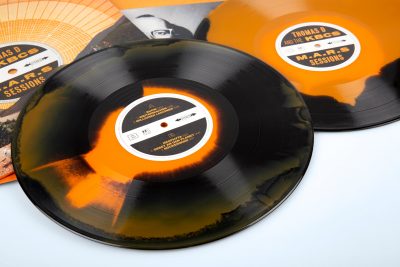 Attention B-side: the orange-black PVC creates surprises and makes each LP unique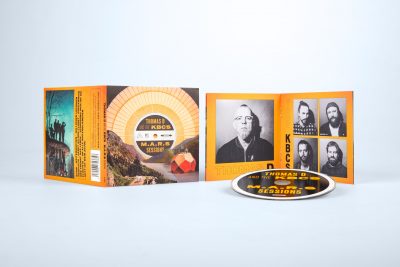 4-sided digisleeve with booklet and CD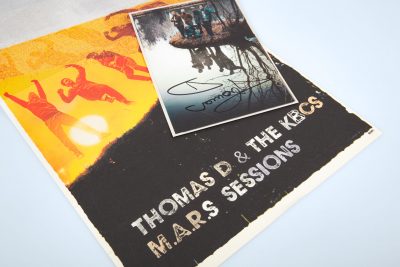 Photo with autograph of Thomas D and poster
In addition, the box set contains a white-printed, orange-transparent flexi disc in 7inch vinyl record format, which has been designed as a letter in a cardboard pocket to match the title "Liebeslied" on it.
A photo signed by Thomas D and a poster complete this limited fan box.
Two 12inch Corona vinyls made from orange-black Virgin vinyl (180g)
Digisleeve, LP inner sleeves and gatefold made of recycled cardboard
Hand-signed photo of Thomas D
7inch flexi disc with imprint
Contact
Write to us and we would be happy to advise you.
Do you have any questions, or would you like to speak directly with a representative?