"TOP-Training Company" for the fourth time in a row
Every year, the Neubrandenburg Chamber of Commerce and Industry (IHK) honors the commitment and extraordinary achievements of companies for high-quality training of young people.
Even though everything is different this year – we are pleased that optimal media has now received this award for the fourth time in a row.
Since 1997, optimal media has already trained over 120 young people in a variety of technical and commercial professions. We will continue to meet the demand to train specialists in our own company. Thus, in 2020 – despite the corona crisis – a new job description was added to the portfolio: Electronic Technician for industrial engineering.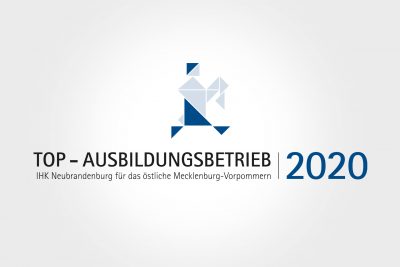 optimal media – TOP-Training Company 2020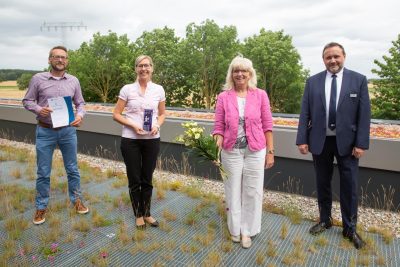 from left: Mirko Goede (optimal media Manager Human Resources), Kati Niesche (optimal media Trainee Coach), Ines Renninger (IHK Neubrandenburg) and Alexander Schwalbe (IHK Neubrandenburg)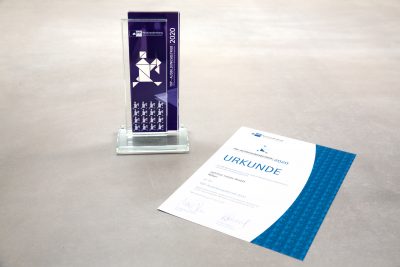 Trophy and certificate "TOP-Training Company 2020"
The attractive mix of apprenticeship positions, the supervision of the apprentices by the trainers, the commitment of the trainers at the IHK as examiners and the additional services offered by optimal media for our apprentices – such as various cost transfers, training opportunities and apprentice events – were certainly only some of the points that convinced the jury. Besides optimal media, only four other companies from the Müritz region were awarded the trophy.
However – and this is now different from previous years – no festive award ceremony by the Chamber of Industry and Commerce with a large supporting programme could take place. Instead there was a video message from the IHK managing director Torsten Haasch with words of thanks for the very good quality of the training at optimal media.
Contact
Write to us and we would be happy to advise you.
Do you have any questions, or would you like to speak directly with a representative?